Recital: Diana Damrau, Xavier de Maistre
ONP Garnier, Paris, Wednesday May 22 2013
Songs by Franz Schubert, Richard Strauss, Reynaldo Hahn, Ernest Chausson, Gabriel Fauré, Henri Duparc, Eva Dell'Acqua.
Diana Damrau, Soprano. Xavier De Maistre, Harp.
"You'll be hugging trees next" was a recent comment from a friend on Facebook (one I actually know, indeed have known for 45 years; he's now in his twilight years, poor old sod, and dating slender young things in Eastern Europe), when he saw I'd bought organic fruit and vegetables for dinner (by mistake). Only a couple of months back I found myself in a spa, having a Japanese bath, complete with rose petals and green tea (I didn't drink it, of course) and an "ayurvedic" massage, with bells on. Now I find myself at a soprano recital with harp, including droopy French songs. Perhaps I should call a shaman?
A New Age
I can in fact explain the recital - just as I can also explain the spa: I promised another friend I've actually met (more than once, even) I'd use the spa voucher he gave me, not give it away; he chose the voucher as a gift he was sure (he was right) I'd never have given myself. I'd never yet had a chance to hear Diana Damrau live, and at the time of booking hadn't seen the programme or noticed it involved a harp (at least not a Celtic one, thank Buddha). I'll have to pay more attention in future.
I had read things like:
"She gave us some exquisitely executed
coloratura
in this role and deployed a rich vibrato and wonderfully full tone when required." "Diana Damrau making a stunning role début as Violetta." "From her defiant 'Sempre Libera' at the outset to her anguished 'Addio, del passato' at the end, Damrau gave full rich voice to a passion for life and the agony of its loss." "Segura, valiente, vibrante, decidida a meterse al respetable en el bolsillo desde su
cavatina di sortita
, Diana Damrau. Dio su gran escena de la locura del segundo acto con una arrebatadora fuerza dramática que no rompió en ningún momento su tersa línea de canto. Posee un
pianissimo
profundamente seductor." "Diana Damrau, who ventured the flirtatious
fioriture
of the Countess Adèle, sings with sweetness that disguises brazen bravura and looks as beguiling as she sounds." "Quite simply one of the very few sopranos of her generation who will certainly be remembered among the greatest, up in the Olympus of opera." "Chaque note de cette Donna Anna, aussi digne qu'elle peut être vindicative, paraît couler de source." "Diana Damrau superstar: triumphant Lucia di Lammermoor in Bilbao."
So I found myself very early on in this recital trying to match what I heard with what I'd read. It was also early on, after the Schubert set, that the friend in front of me turned and muttered "Je ne suis pas convaincu." Shortly afterwards he turned again and asked "C'est elle qu'on a dans
La Traviata
à la Bastille ?" He was referring to next season. "C'est pas possible. C'est pas possible".
It was puzzling, and if this write-up comes so long after it's because I've been scratching my head over it since. Never averse to a cop-out, I've decided to use some excerpts from an e-mail exchange with a friend:
I don't know what to think. Apparently she got a standing ovation at La Scala for the Bellini aria. Apparently she triumphed as Violetta in New York. Etc etc... I must have cloth ears.
At least someone on ODB did notice she often sounds flat and said she isn't yet a great recitalist. I see also critics often use the word "ethereal" when writing about her. Perhaps that's the trouble: as you know, I prefer the Ethel Merman / Ghena Dimitrova school. I read some more reviews from the past two or three years. The word "ethereal" is quite often there. But she's also supposed to have a brilliant top. Few critics raise the relative lack of expressiveness or the fact she sometimes sounds flat (I saw only one). Several mention the time she takes to warm up: that was audible this week. Hardly anyone suggests it isn't an ample voice - only one I saw, who said she would need to benefit from the Met's acoustics, supposedly flattering for voices. As Olympia, one did say she didn't have Dessay's vocal projection or acting charisma.
I read her diction is good in French and German; personally I couldn't follow the French texts - the French woman next to me (who looked exceedingly grumpy and never clapped once) followed them in her programme. The friend in front asked "What do you think of the diction?" "What diction?" I'm sorry to admit I replied. "Precisely," he answered.
What I heard, honestly, was a young-sounding, fresh voice, medium sized: at Garnier, standing on wooden boards over the pit, at no point did she make your ears ring. Her lower register sometimes seemed oddly unsupported. Her upper medium (which I suppose is many singers' sweet spot) is extremely elegant and she put it to best use in the Strauss songs (but I think
Beim Schlafengehen
was a mistake, for her and the harp, which obviously couldn't sustain the accompaniment like a grand piano, let alone an orchestra). Her top notes are perfectly in tune. Her agility wasn't much put to the test; she certainly didn't do an impressive job of Dell'Acqua's
Villanelle
, which was the only vaguely
coloratura
piece - too many illustrious predecessors.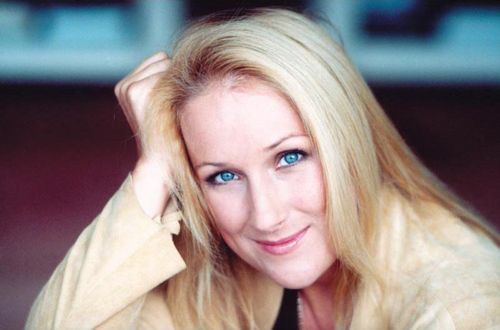 At no time, as the friend in front noted, did her voice soar and carry you away. Her Bellini encore didn't sound a bit like opera - but I suppose this was, after all, a recital with harp.
Overall, honestly, though I know she's now a mother of two (or more?), it was like a recital by a very talented young singer - no more than that. Perhaps she held back because of the harp - he was amazingly ethereal at times, as if barely touching the strings. Very impressive, and I swear he got louder applause than her. At no time in the evening was there rapturous applause, either. Limited bravi. So I really don't think it's just my cloth ears.
There was, by the way, during the recital, a typically Parisian heckling and shushing battle between those who thought it was OK to clap between songs and those who didn't. Damrau did her best to silence it by raising a hand and saying "Ce n'est qu'une chanson !"
The evening ended with polite, not rapturous applause - akin to faint praise.
Full programme:
Franz Schubert: Ständchen, D. 957 - Du bist die Ruh, D. 776 - Gretchen am Spinnrade, D. 118 - An die Musik, D. 547 - Ave Maria, D. 839.
Francisco Tárrega - Recuerdos de la Alhambra, Transcription for harp by Xavier de Maistre
Richard Strauss: Ständchen, op. 17, n° 2 - Epheu, op. 22, n° 3 - Schlagende Herzen op. 29 n°. 2 - Nichts, op. 10 n°. 2 - Wiegenlied op. 41 n°. 1 (Damrau herslef turned the pages of the perpetual motion accompaniment) - Beim Schlafengehen WoO 150 n°. 3.
Reynaldo Hahn: Si mes vers avaient des ailes - L'heure exquise.
Ernest Chausson: Le colibri, op. 2 n°. 7 - Le temps des lilas - La cigale, op. 13 n°. 4.
Gabriel Fauré: Impromptu in D flat major, op. 86, for harp.
Henri Duparc: Chanson triste - L'invitation au voyage
Eva Dall'Acqua: Villanelle.
Encores:
Bellini: I Capuleti e i Montecchi - "O quante volte."
Strauss: Morgen.