Cole Porter - Kiss Me Kate
Théâtre du Châtelet, Paris, Thursday February 4 2016
Conductor: David Charles Abell. Production: Lee Blakeley. Sets: Charles Edwards. Costumes: Brigitte Reiffenstuel. Choreography: Nick Winston. Lighting: Emma Chapman. Lilli Vanessi/Katharine: Christine Buffle. Fred Graham/Petruchio: David Pittsinger. Lois Lane/Bianca: Francesca Jackson. Bill Calhoun/Lucentio: Alan Burkitt. Hattie: Jasmine Roy. Paul: Fela Lufadeju. First Man (Gunman): Martyn Ellis. Second Man (Gunman): Daniel Robinson. Gremio: Jack Harrison-Cooper. Hortensio: Thierry Picaut. Harry Trevor/Baptista: Joe Sheridan. Ralph (Stage Manager)/Nathaniel: Damian Thantrey. Stage Doorman/Haberdasher: Franck Vincent. Cab driver: Thomas Boutilier. Gregory - Dance Captain: Ryan-Lee Seager. Philip: Sean Lopeman. Harrison Howell: John Paval. Orchestre de Chambre de Paris.
Cole Porter
I've said it before, e.g. when writing up
Manon Lescaut
in 2013: "If you leave at the interval, chances are someone will tell you it got better after." So sure enough, having quit
Kiss Me Kate
at half time, next morning I had an email saying: "A mistake. The first half did drag but you missed a side-splitting "Brush up your Shakespeare" from the two Mafiosi. I wept."
Oh, well. Why did we leave? Various reasons, I suppose. At least the e-mail chum agreed about the amplification: "Don't get me started on miking! I'm told the Châtelet's technology is old and that you can now get systems with more 'direction'. I'm fed up scrutinising faces to see who's singing." Exactly: it took too long to locate whose lips were moving, whether in dialogue or songs.
The women's New Look costumes were undeniably impressive, in fact almost stealing the show: "Stunning 1950s Dior-inspired gowns in the finale," said the friend, but there were plenty in part one as well. The men were dressed much like Gene Kelly in
An American in Paris
- wide, high-waisted trousers, cut too short, and short-sleeved shirts under sleeveless fairisle jumpers. All impeccably done. The on-stage, no-business-like-show-business rehearsal staging was conventional: a theatre name in white bulbs (proper ones, not EU-mandated scams); thickly-moulded, unmistakeably American proscenium arches; two red-brick "backstage" structures with iron stairs (topped with a busy wardrobe department with women at ironing boards), revolving to reveal dressing rooms as required. The "Italian" business took place in stylised cardboard sets that also looked, in period, like
An American in Paris
(the big ballet number).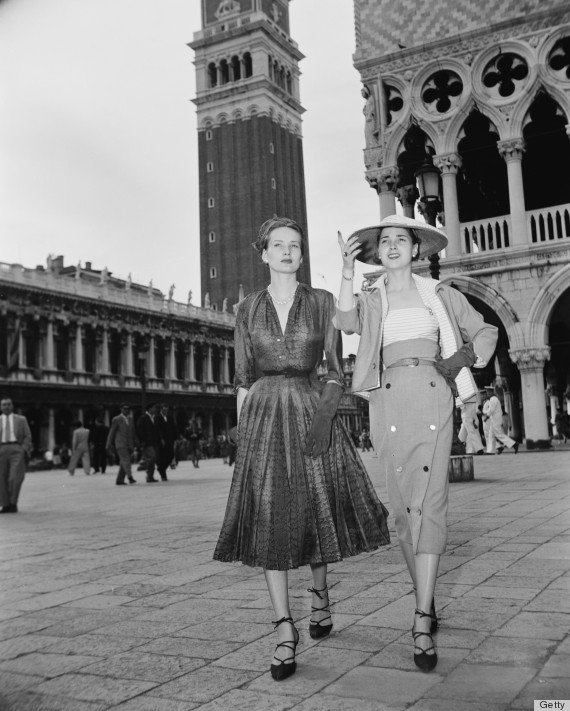 We open in Venice
But as I watched this show, I remembered a recent discussion, on
Parterre
, about the NYCO's "renaissance" production of
Tosca
. There, I said: "I saw a
Gioconda
in Florence (with Dimitrova, so I heard it as well) that IIRC recreated the original, old designs. Result: it was just old-looking." It sounds as ungrateful as looking a gift horse in the mouth, but the late 40s/early 50s aesthetic was so thoroughly carried through that the production, while new, felt, as I mentioned to my friend in that morning-after e-mail exchange, like an old one warmed up.
And then, my experience of musicals has mostly been in New York. There, you wonder how they do it. They make it all look effortlessly easy and fun and bright as a button, as if there's nothing to it and they're loving every minute. For the first half hour of
Kiss Me Kate
it looked to me as thought the cast's hearts weren't altogether in it. The musical specialists (Alan Burkitt, Francesca Jackson) were more convincing than the operatic ones. Vintage scooters were a cute idea, but the performers looked unsteady and uneasy on them. After an hour, things warmed up: by the time of "I hate Men" Christine Buffle was visibly enjoying herself. But overall it was
bon enfant
, it was diligent, but this first half lacked the gleaming Broadway flair and finish.
"Je m'ennuie," said my companion. "You can stay if you want." I hesitated. But, miserable meanie that I must be, in the end I left.