Verdi - Rigoletto
ONP Bastille, Monday May 2 2016
Conductor: Nicola Luisotti. Production: Claus Guth. Sets and costumes: Christian Schmidt. Lighting: Olaf Winter. Il Duca di Mantova: Michael Fabiano. Rigoletto: Quinn Kelsey. Gilda: Olga Peretyatko. Sparafucile: Rafal Siwek. Maddalena: Vesselina Kasarova. Giovanna: Isabelle Druet. Il Conte di Monterone: Mikhail Kolelishvili. Marullo: Michal Partyka. Matteo Borsa: Christophe Berry. Il Conte di Ceprano: Tiago Matos. La Contessa: Andreea Soare. Paggio della Duchessa: Adriana Gonzalez. Usciere di corte: Florent Mbia. Orchestra and Chorus of the Opéra National de Paris.
Verdi
It's always frustrating when, as sometimes happens, the efforts of an excellent cast are undermined by the distancing effects of an unsuccessful production. So it was this week at the Bastille, with this
Rigoletto
- or so it seemed to me, at any rate. As also quite often happens, the initial idea was reasonable enough but unconvincingly carried through.
As the opera began, an old tramp in a long coat, with remnants of white makeup on his face, knelt and opened a carton. He pulled out, first, a (monochrome) Harlequin's outfit, then a blood-stained white dress. Carrying his memories round in a box, we easily understood; and the production would be a flashback, in basically a single set: the box,blown up to Bastille proportions.
But from then on, it was as if the director and his assistants couldn't make their minds up, trying out one cliché ("poncif" was the word my French neighbour used) of modern staging after another to no satisfactory overall effect. The opening scene was in renaissance costume until Monterone burst in in plain, dark, modern clothes. Perhaps it had been a fancy dress ball after all: we never saw period costumes again. When they finally met, Gilda, in a demure white dress, and the duke, in a stiff, nerdy hairpiece and nerdy specs, together looked like Janet and Brad in
Rocky Horror
. The old tramp we had seen was not, it turned out, Rigoletto, but his double. There would be doubles (or more) throughout the show. Sparafucile and Rigoletto were even dressed the same and mirrored each other's gestures as they struck their deal, and during "Caro nome" we had three ages of Gilda, in identical white dresses, on points and the duke's nerdy double, also a dancer, attending her on her pedestal.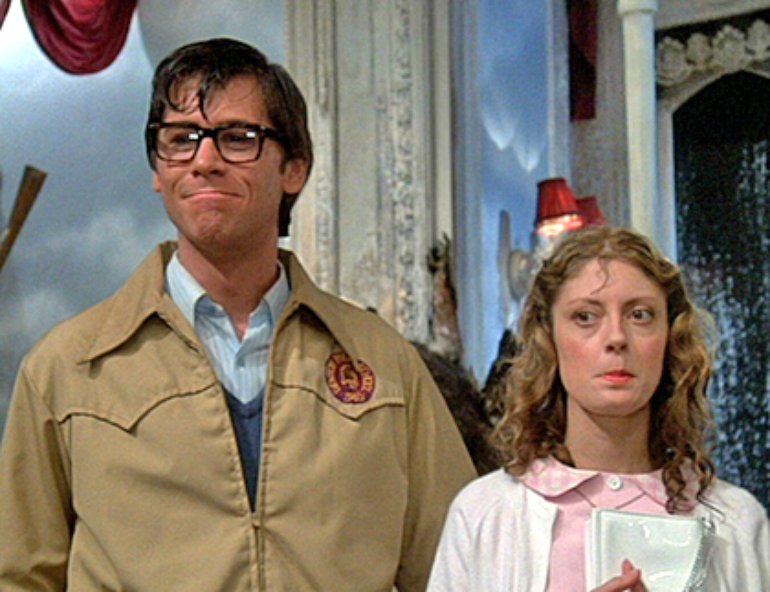 The duke and Gilda
There were video projections as well, admittedly not all as corny as the one of Gilda running towards us, in slow motion, through a field of wild flowers (or later, running away again).
None of all this business seemed urgently necessary and the effect was fragmented, not coherent. Least understandable of all, to me (perhaps I was tired and not in a mood for working things out) and unkindest to the tenor was to have him, after a good snort of coke, sing "La donna e mobile" in front of a line-up of showgirls in white feathers, wriggling their bottoms at him and provoking laughter from the audience. I really don't know why Maddalena was leading this revue at Sparafucile's house, in black patent, thigh-high boots and spangled tails - though it must be said Vesselina Kazarova wore the outfit with panache.
The trouble with this sort of production is that, by distancing you from the characters and preventing you from engaging with them, it limits the singers' powers to stir up emotion. This is, as I said, frustrating when you have such a good cast up there on stage, battling away at it.
Least hindered was perhaps Quinn Kelsey, who managed to project a moving portrayal of a tragically broken man. Vocally he was an unusual, un-Italian Rigoletto, lighter and grainier in tone than you expect, sounding somehow higher than the notes he was actually singing, perhaps a touch colourless, but powerful neverless. It was a pity that the effect of his final business, packing the dress into the carton to "boucler la boucle" of the flashback production, was underwhelming.
I was very glad to have at last a chance to see and hear Michael Fabiano. His voice is darker than I expected, especially at the top, with a striking variety of colour and timbre and wide dynamic range. His singing was generous - maybe even more generous than need be: with such reserves he could afford to take things easier - and, so I thought, risk-taking and pugnacious, as if determined to break out of the constraints of the production and project real personality from behind those nerdy specs. This pluckiness was undeniably engaging, when these days so much singing is cautious and sparing.
Olga Peretyatko, though by no means old, is a bit too grown-up to skip across the stage like a kid to greet her father. Vocally, she is, as my neighbour put it, not a fragile Gilda, and he meant it as a compliment. I enjoyed what sounded to me like old-fashioned diva singing, with some truly gorgeous sounds and impressive technique - I don't think I just imagined, at one point, two successive, flawless
messa di voce
.
Maddalena
The rest of the cast was more or less perfect, with Vesselina Kasarova not only looking great in her boots and tails but in much better vocal shape than I had, I must admit, feared. And the orchestra, under Nicola Luisotti, was for once a genuine protagonist, not just an accompaniment.
The production is, for now, available on line and will apparently come out on DVD, so anyone interested will have a chance to see if my impressions make sense. To me, putting this cast in this production was a lost opportunity. I'm told Guth has done better work. To me, Carsen's "circus" staging would, if he could have been persuaded to come and revive it himself, probably have been a better bet.