Wolf-Ferrari - Il segreto di Susanna / Poulenc - La Voix Humaine
Opéra Comique, Paris, Tuesday March 26 2013
Conductor: Pascal Rophé. Production: Ludovic Lagarde. Sets: Antoine Vasseur. Video: Lidwine Prolonge. Costumes: Fanny Brouste. Lighting: Sébastien Michaud. Contessa Susanna; Elle: Anna Caterina Antonacci. Conte Gil: Vittorio Prato. Sante: Bruno Danjoux. Orchestre Philharmonique du Luxembourg.
The double bill of
Il segreto di Susanna
and
La Voix Humaine
is a good example of the Opéra Comique's interesting programming, making up for less interesting schedules at the ONP in recent seasons and the near abandon of opera - temporarily, perhaps - at the Châtelet. Of course I'd never had a chance to see the former. Less obviously, in over 30 years of opera in Paris I'd never even seen the quintessentially Parisian Poulenc. Inevitably, this being so, I had Denise Duval in my mind and ears.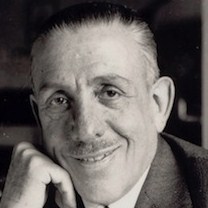 Poulenc
Fortunately, Anna-Caterina Antonacci was completely different in almost every way: different yet perfect, bringing a role fairly firmly anchored in late 50s Paris right up to the present day. Antonacci's Elle is (unexpectedly, really, when you've seen her as Cassandre) cool, contemporary, universal (i.e. less obviously French), natural and un-histrionic, relatively robust, but right; and the role is a perfect fit for her voice today – a voice quite different in character from Duval's of course, darker, grainier… and again, contemporary, just as Duval's was unmistakeably of its time (with pronunciation you no longer hear).
French daily
Le Figaro
put it like this: "[Anna-Caterina Antonacci] colours her voice to suit each word with supreme artistry, leaving us speechless. This variety of inflection, of accentuation, is proof that for her the tragedienne's art is not one of convulsions and cries, but of classical discipline." (More surprisingly, especially for
Le Figaro
, the article continues: "Which enables her to temper the exasperating aspects of this whiner" - or moaning Minnie, I suppose you might say - "and endow her with unusual dignity.")
A lady leaving at the end put it more succinctly: "Sensationnelle," she said.
With the text to focus on (Antonacci's diction continues to wow French audiences) I'm not sure
La Voix Humaine
really needs much staging. Here it was set in a modern flat made up of interlocking white boxes, with one or two transparent or mirrored walls, in creamy light. On a couple of the walls were large flat screens showing black and white videos very visibly inspired by Man Ray's famous photo of an eye crying glass tears. The contemporary setting naturally made for some clashes with the text, as we no longer tussle with operators and crossed lines (though we now tussle with other things). The flat rotated so Elle could walk from room to room, or phone to (wireless) phone, dressed mainly in La Perla-style silks in old rose and dappled grey, sometimes with a pale yellow coat on top, once with a little cyclamen
blouson
. We saw her living room, her bathroom with a fancy walk-around tub filled to the brim, and her bedroom, where a fridge-freezer filled with plastic bottles of mineral water (she drank from one) stood incongruously in a corner.
Overall, the rotating and videos and walking about were a distraction. It might have been better to rotate the flat in
Il segreto di Susanna
, which has something of the bedroom farce about it but was played in a single, static space, and keep it still for
La Voix
.
Wolf-Ferrari
Susanna
, a fairly sophisticated bit of fluff with a sparkling score, was played, of course, first. The same living room was here a vestibule with a long, white ottoman, gouged open in a flurry of feathers when the jealous count was looking for... his umbrella, then covered with a quilt and one of those orange sheepskin rugs we all had in those days: the period was here late 60s or early 70s, with some sleek Scandinavian props (e.g. the tall, slender chocolate pot Susanna saved from her husband's wrath), acid-drop lighting: pink, blue, yellow, violet... and the count's red shirt collar splayed well over his jacket lapels. The farce (Susanna's secret is not that she has a lover who smokes, which is what the count thinks when he smells tobacco, but that she smokes herself) was played out with gentle good humour and connivance between Susanna and her manservant, and cloud upon cloud of stage smoke. The work is presumably banned in the US. Anna-Caterina Antonacci was her usual, natural-looking self, projecting such presence you had eyes for no-one else. Vittorio Prato looked young and a touch gawky beside her, but as my neighbour said, with Antonacci on stage what hope has anyone else of existing? I'm not keen on tight vibrato, personally, but my companions liked him a lot, the ladies especially.
My neighbour to the right also liked the relatively robust playing of the Luxembourg orchestra under Pascal Rophé, but I'd tend to agree with the critics who found it too robust, at risk at times of drowning the singers.
Maestro Wenarto sings the end of La Voix Humaine
.