Dusapin - Penthesilea
La Monnaie, Brussels, Sunday April 12 2015
Conductor: Franck Ollu. Production: Pierre Audi. Sets: Berlinde De Bruyckere. Lighting: Jean Kalman. Costumes: Wojciech Dziedzic. Video: Mirjam Devriendt. Electro-acoustic emplacement: Thierry Coduys. Penthesilea: Natascha Petrinsky. Prothoe: Marisol Montalvo. Achilles: Georg Nigl. Odysseus: Werner Van Mechelen. Oberpriesterin: Eve-Maud Hubeaux. Bote: Wiard Witholt. Botin: Yaroslava Kozina. Amazone: Marta Beretta. La Monnaie Orchestra & Chorus.
Before seeing this opera, I had no idea of the gruesome tale (as retold by Kleist) of
Penthesilea
. Here are some indications from the web…
First, very simply, from
encyclopedia.com
:
"Penthesilea is about an Amazon queen who falls in love with the Greek hero Achilles but later goes mad with passion and kills him".
Wikipedia
hints at the gruesomeness:
"Penthesilea (1808) is a tragedy by the German playwright Heinrich von Kleist about the mythological Amazon queen, Penthesilea, described as an exploration of sexual frenzy. Goethe rejected it as 'unplayable'".
The
Reader's Encyclopedia of World Drama
reveals more – we learn that Penthesilea carries out a…
"… savage attack on him with dogs, elephants, and all the weapons of war imaginable. After killing him and drinking his blood, she is brought to her senses and is horrified by the cruelty of her passion. Penthesilea now repents her deed and coldly takes her own life".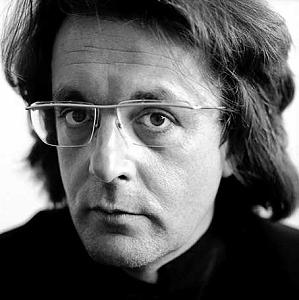 Dusapin
La Monnaie's own website links the story (pessimistically, but in interviews Dusapin admittedly doesn't seem to have a very sunny disposition) to the modern world:
"It was Heinrich von Kleist (1808) who brought the subject into the modern era. In his version, Achilles does not kill Penthesilea, but vice versa: in a moment of tragic madness she tears apart the one she loves with her teeth. Pascal Dusapin's Penthesilea is his seventh opera; he includes in his score a quote from Christa Wolf: 'Thus begins the modern era and it is not beautiful.'"
From the above it will be clear that the story is a violent, "antique" tragedy of the
Elektra
or
Medea
sort. Dusapin has successfully created a dark, powerfully dramatic work, gripping and harrowing, centred on a strong female (anti-)heroine, with a leading role as dominant and taxing for the singer as Medea or Elektra. The work has been greeted as a "triumphant masterpiece", and a triumph, too, for Natascha Petrinsky. She is in theory a mezzo, but a high one, with a bright, forceful sound and – usually, though less so in this grim environment, in the jeans, boots and tee-shirt of a modern-day amazon – a glamorous presence. She has often sung in Brussels – as Flora, Geschwitz, Varvara… As the latter, already it seemed to me the "roles were reversed", her voice sounding brighter than Evelyn Herlitzius' Katja. In
Elektra
, I noted "We both preferred the glamorous Klytemnestra (Natascha Petrinsky)" to Nadine Secunde's Elektra and Annalena Persson's Chrysothemis. Her Penthesilea was such a fearsomely committed performance that it tended to overshadow the rest of the undeniably strong and equally committed cast, Marisol Montalvo in particular.
This Brussels premiere has scored a hit - proving once more that opera is not in fact dead and that opera audiences are not the brainless,
Bohème
-obsessed conservatives they're often accused of being - despite both conductor and directors standing in for others.
The production, originally to be directed by Katie Mitchell, was as dark as the plot. It combined unsettlingly ambiguous video projections – of the squelchier kind of nature close-up, of water (or blood?) dripping slowly and darkly off hair or fur (human or animal?), of the flaying and salting of skins (whose?) – with caked-looking gridirons on a dubiously stained floor, that were eventually piled up with pelts as in a tannery (I know a bit about this: I worked in one as a student) and sometimes large aluminium shapes that might have been aircraft parts or the housings of jet engines. The men were long-haired, in flowing, black, sleeveless coats, black gloves and boots: a kind of war-torn Rick Owens look that's a touch too trendy for me. The women wore brown and beige. Individual and group movements were well-directed, but in reality all eyes were inevitably glued to Natascha Petrinsky's wild Penthesilea.
Dusapin's score is of course, in the circumstances, not what you might call easy listening; but it is by no means intractable. The scoring is fairly conventional, but with emphasis on the lower register: contrabassoons, tubas, double basses and, if I heard right, a bass flute. So, as you might expect, there's quite of lot of "amiable tapeworm" meandering, but leavened by the use of a solo harp and a cimbalom or dulcimer, oddly evocative of the ancient world; and of course, although Dusapin doesn't go in for banks of exotic percussion, breaking out at times into considerable violence. The chorus, commenting on the action from time to time, was haunting. Some music and sound effects (e.g. dripping) were transmitted round the house through speakers in the stage-side boxes and attached to the balconies. Under Franck Ollu, replacing Ludovic Morlot, who has resigned (thankfully, some might say), the orchestra did a great job.
This premiere is, I think, a real event, and it's likely that
Penthesilea
will do the rounds rather as Eötvös's
Tri Sestry
has done, entering, as much as any contemporary opera can be said to do so, the repertory. If it comes out on video, it will be well worth buying.