Chamber Concert, Allhelgonakyrkan, Stockholm
Allhelgonakyrkan, Stockholm, Saturday 12 November 2016
Bengt Forsberg: piano. Ann Hallenberg: mezzo-soprano. Mina Fred: viola.
Bengt Forsberg, Mina Fred: Improvisation for viola and piano.
Max Reger: Suite Number Two in G minor for solo viola, op 131d: Andante
Sten Broman: Fantasy, Fugue and Chorale for viola and piano
Clara Schumann: four songs
Johannes Brahms: two songs for alto, viola and piano, op.91
Robert Fuchs: viola sonata
Encore - Johannes Brahms: Wiegenlied.
An interesting, eclectic programme for this rather sparsely-attended chamber concert in the wooden Allhelgonakyrkan church in Stockholm, where record snowfalls for the time of year made getting around quite tricky and probably kept some regulars away.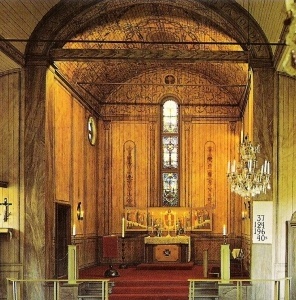 The evening opened surprisingly with a totally contemporary – intrinsically, since it was done on-the-spot – improvisation by the excellent Bengt Forsberg, well known to many as Anne-Sophie Von Otter's usual accompanist, and Mina Fred on the viola, starting with the former rooting around inside the piano, plucking at the strings while scratchy viola harmonics emerged from the back of the church, yet ending almost like a Spanish dance.
This ran without a break into the Max Reger solo, reminiscent of a folk ballad. To a British ear, Sten Broman's
Fantasia
, a conservative work for its date (1963) but unmistakably well-crafted, brought to mind Vaughan Williams on a good day. The decidedly Brahmsian viola sonata (1899) of the Austrian Robert Fuchs, whom I see Brahms admired, is a strong, sometimes passionate work. Both surely deserve more frequent outings.

But what had given me the idea of visiting Stockholm for the first time was the chance to hear Ann Hallenberg, not in flamboyant baroque arias, but in four Clara Schumann Lieder and Brahms' two songs for alto and viola. Anyone who knows her voice, or possibly has heard her recording of the Alto Rhapsody, will understand my motivation and have a fair idea of what I heard: the warmth, the sumptuous timbre, the sensitively varied dynamics, the perfectly-judged sentiments, the right balance, in the concert context, between reading and acting… With Ann Hallenberg, the usual, you might say, to keep it short.