Janacek - Foxie! The Cunning Little Vixen.
Palais de la Monnaie, Brussels, Sunday April 2 2017.
Conductor: Antonello Manacorda. Production and costumes: Christophe Coppens. Sets: Christophe Coppens & I.S.M. Architecten. Lighting: Peter van Praet. Revírník (Forester): Andrew Schroeder. Revírníková (Forester's wife): Sara Fulgoni. Rechtor (Schoolmaster): John Graham-Hall. Farář (Parson), Jezevec: Alesander Vassiliev. Harašta: Vincent Le Texier. Pásek (Innkeeper): Yves Saelens. Bystrouška (Vixen): Lenneke Ruiten. Pásková (Innkeeper's wife): Mireille Capelle. Lišák (Fox): Eleonore Marguerre. Mala Bystrouška (Young vixen): Maria Portela Larisch. Frantík, Kobylka: Logan Lopez Gonzalez. Pepík, Cvrček: Marion Bauwens. Lapák: Kris Belligh. Kohout: Willem van der Heyden. Chocholka: Virginie Léonard. Skokánek: Heleen Goeminne. Datel: Birgitte Bonding. Komár: Alain-Pierre Wingelinckx. Sova: Beata Morawska. Sojka: Lieve Jacobs. Solo Liščička: Margareta Köllner. La Monnaie Orchestra and Chorus and MM Academy.
Janacek
It was a frustrating afternoon in Brussels yesterday. Sitting in stifling heat - even on the second day of April - in block H of La Monnaie's baleful tent, planes roaring overhead as usual, I felt like I was peering from too far away at what looked, in the hazy distance, like it might be a great production: thought-provoking ideas, lots of detail, excellent directing... but too far away. In Paris, I'd just book in again for another try in closer seats, but even if that were doable from a travel point of view, it's too late now: Sunday was the final performance. As usual, la Monnaie will stream the show, starting in mid-April, and it will be interesting to see what was going on up close. But video is nothing like the real thing, is it?
This was the kind of production that would send some people ballistic, involving a rewrite of the libretto and even the title. A short text on the house web-site explains that this is "an original all-embracing concept in which youngsters and their experiments come into conflict with the adult world in a community that establishes its own nature-oriented rites (...) In an oppressive environment dominated by – not always altruistic – adults, the pretty, headstrong, and freedom-loving Foxie grows up amid a group of young people keen to explore their own boundaries. She discovers life's darker sides and goes through a number of traumatic experiences before finding true love. Her happiness, however, doesn't last long, as she is hit by a stray bullet fired by an oddball. But even without her, life goes on and history keeps on repeating itself..."
The set is the same throughout: a kind of hangar or warehouse (much like the so-called "Palais de la Monnaie" we were sitting and stewing in) in which nature-themed carnival-type floats and costumes are stored, including a giant fox with glowing eyes. On the left is the security guard's office - the guard here replacing the forester - with a desk and a wall of black-and-white screens. On the right, a diner-like café. The opera opens at the end of the parade, with the floats pushed in to be parked for another year and the kids pulling off their animal costumes and fooling around in their socks and underwear: in this production, the stodgy adults are teased by turbulent teenagers, not beasts and insects. "Foxie" is a waif-like redhead and will fall in love, not with a fox but with another redheaded girl met outside the café.
The production is resolutely contemporary but only partly realistic. In its more dreamlike, fairy-tale moments, Foxie and her girlfriend live in a tree-stump with a lid on, or in the gaping red gunshot-wound of a giant floppy bunny (the dead hare of the libretto) dragged on stage with ropes, through the café, by the ubiquitous kids. It also refers in quite a playful, cartoon-like way to fantasy sex: the dog is a man in a puppy mask, we glimpse (at least, that's the word from where I was sitting) a tattooed bodybuilder with an eagle head in a bathroom, and the scene with the chickens is comically sado-masochistic and has the rooster pulling off his "dildo" with the pop of a cork. We assume, less playfully, that the parson has left town after a sex scandal. At the end, when Foxie is dead, four seasons have passed (we see that in the changing colours of cartloads of "nature", complete with trees, wheeled on and off, snow falling on the last) and it's time to get the floats and costumes out again to prepare for the next parade.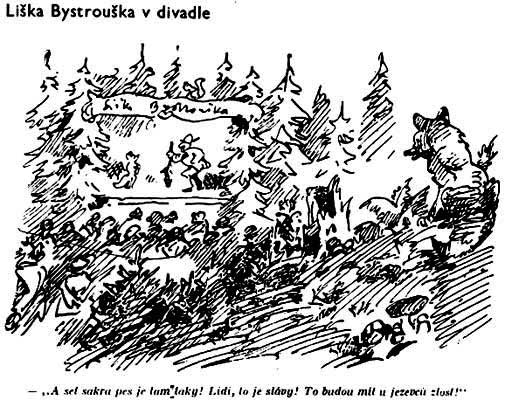 As I said above, this production was very well done and full of what appeared to be interesting details, only I was too far off to make the most of it. Very frustrating. Frustrating musically, too, to some extent. Lenneke Ruiten is certainly an outstanding Bystrouška and the rest of the cast was strong, but the amplification used to correct the deficiencies of that hated plastic tent means you can't see who's singing. It becomes a real annoyance after a while. And La Monnaie's orchestra is not at ease in Janacek, so to my (admittedly bad-tempered, in the circumstances) ear, the score never really soared and I was never really stirred, not even in the love scene. I'm told by people with better credentials than mine that Antonello Manacorda is an excellent, dynamic conductor, but I found the afternoon's playing flat-footed and it seemed to me he had a tendency to charge into climaxes and bludgeon his way to the end of each act.
What a luxury it would be to see this staging in a proper theatre with the same cast, air conditioning, no amplification and no planes, police sirens, crows croaking on on the roof or local urchins playing noisily outside. I wonder if it will travel, or come back in a couple of years to La Monnaie's (at last) renovated house?