Toshio Hosokawa - Matsukaze
La Monnaie at the Théâtre National, Brussels, Sunday April 9 2017
Conductor: Bassem Akiki. Production and choreography: Sasha Waltz. Sets: Pia Maier Schriever, Chiharu Shiota. Costumes: Christine Birkle. Lighting: Martin Hauk. Matsukaze: Barbara Hannigan. Murasame: Charlotte Hellekant. Mönch: Frode Olsen. Fischer: Kai-Uwe Fahnert. La Monnaie Chamber Music Orchestra. Sasha Waltz & Guests. Vocalconsort Berlin.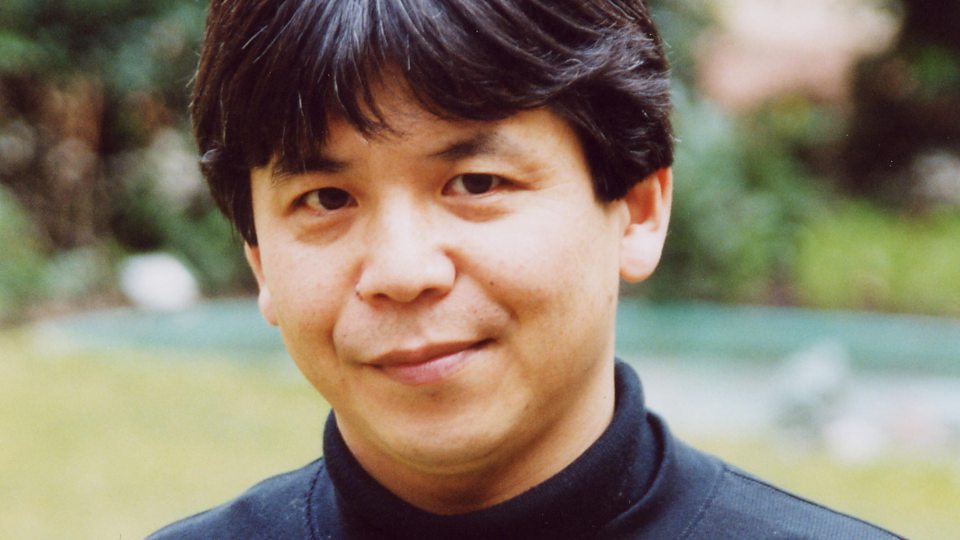 Hosokawa
My first experience of an opera by Toshio Hosokawa was his
Hanjo
, shortly before
Matsukaze
was premiered in May 2011, and I liked it. So I wasn't totally put off by La Monnaie's Synopsis of the latter, however unpromising it looked:
"On a beach, a monk on a pilgrimage discovers a single pine tree on which two names have been carved: Matsukaze (Wind in the Pine Trees) and Murasame (Autumn Rain), the names of two sisters who are buried nearby. He falls asleep next to a shed for storing salt. Matsukaze and Murasame fill their buckets with seaweed and leave the beach. Their arrival awakens the monk; they offer him shelter. A gust of wind reminds them of a poem by Yukihira, whose name throws them into confusion. They tell the monk that this man, whom they loved, left them centuries before, leaving them this poem. The monk says that they are sinners. This feverish evocation leads to them confusing the lost lover with the pine tree on the beach. In their delirium, they dance around the solitary tree. The monk is woken by a wild sea. The beach is deserted; there is no shed. He resumes his journey. The green pine tree remains behind, alone and exposed to the wind's blasts."
What I liked most in 2011 was the music:
"... often (not always: there are plenty of drums, of different sizes, for times of drama) delicate and diaphanous, refined, subtle… sometimes infinitely quiet, quieter than any music we usually hear (...) 90 minutes without a break weren't too much. I might even be tempted to listen to Hosokawa at home; though that would require being very calm, having plenty of time with no interruptions and probably using headphones, as he sometimes calls for such tenuous threads of sound and tiny tinklings."
I quote my account of
Hanjo
from back then as the attempt at description still stands for what I heard yesterday, only if my memory is serving me well (which I freely and frequently admit it rarely does these days)
Matsukaze,
which blends evocations of tiny bells in the wind and droplets of rain with recorded wind and wave sounds and has quite a prominent harp part, is even more beautiful still. It was magnificently served by Barbara Hannigan and Charlotte Hellekant, even when they were suspended high in the air, picking at their tangled, black seaweed, or carried aloft by dancers or dancing with them. In the excellent acoustics (this was
not
in that awful plastic hangar at Tour & Taxis) it was often just gorgeous.
The production, mostly in shades of beige, sometimes pinkish, opened in clouds of mist and involved some striking images on a largely (but not entirely) empty stage. The seaweed I mentioned above was evoked by a tangled, black web that moved from the rear of the stage to the apron to form a black mesh curtain in at least two layers, with a full moon shining through. Matsukaze and Murasame appeared from above, sandwiched inside it, slowly picking their way through the seaweed and down to the stage as they sang. During the second half, more or less (there was no break), the stage was occupied by a rectangular structure, the skeleton of a house sketching out four cubes. As the monk (often standing in the pit) resumed his journey, yard-long pine needles rained slowly down, making a carpet on the stage and, I suppose, telling us the spell was finally broken. Dancers crawled under the carpet of needles and reared up, at the very end, like spiny monsters.
Other than images, the action was supplemented, often doubled-up, by modern ballet, with dancers in simple, plain, Japanese pyjamas. I'd been told by someone who saw it before I did that it was "perfect beauty" and enjoined to "enjoy it!" Our favourite usherette, who has of course seen many more things than I have at La Monnaie over the years, confided that she'd deliberately stayed in the auditorium to see it twice: "Très beau." But I'm afraid the production confirmed to me in spades that I am almost wholly impervious to ballet. I am not a physical person. All the running and grappling and writhing about and striking poses conveys nothing to me. nothing at all. I could be watching a soccer match, a nature documentary or paint drying. So I enjoyed the gorgeous score as a concert, but got little from the story or the staging. My loss no doubt, but I don't see much I can do about it.