Rossini - Il barbiere di Siviglia
ONP Bastille, Thursday September 25 2014
Conductor: Carlo Montanaro. Production: Damiano Michieletto. Sets: Paolo Fantin. Costumes: Silvia Aymonino. Lighting: Fabio Barettin. Il Conte d'Almaviva: René Barbera. Bartolo: Carlo Lepore. Rosina: Karine Deshayes. Figaro: Dalibor Jenis. Basilio: Orlin Anastassov. Fiorello: Tiago Matos. Berta: Cornelia Oncioiu. Un Ufficiale: Lucio Prete. Orchestra and Chorus of the Opéra National de Paris.
Paris's new production of
Il barbiere
– not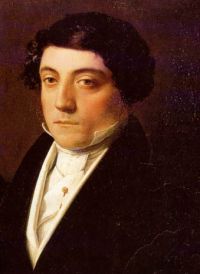 Rossini
altogether new, as it was created in Geneva in 2010 – should be fairly easy to describe. The curtain rises on an ordinary, slightly shabby, yellow street façade in Seville. We see the ground floor and three storeys above, but there could be more. To the left is a tapas bar (the Barracuda) with a giant ice cream cone and a table and chairs outside. In the middle, under Rosina's balcony, is Almaviva's (blue) car. All over is a multitude of realistic detail: the fire hydrant, the blue-and-white street numbers, the "no parking" sign, the graffiti, the plastic dustbin, the washing at the windows, the bird droppings running down the globe-shaped street lights. The outside scenes take place, naturally, in this street, with the chorus dressed as modern policemen or soldiers or as a colourful horde of modern locals, young and old.
For the indoors scenes, the whole central section rotates to reveal winding stairs and the inside of all the rooms, on all three floors, with their clashing wallpapers and tiles and variegated furniture, fixtures and fittings, realistic again down to the last detail, and as it turns, the singers wind their way in and out of the rooms and up and down the stairs. This is of course a classic stage set-up. What's different here is simply the scale of the whole undertaking, the degree of detail and the precision of the directing. There were things going on (in rooms, on balconies... people living their lives) all the time: "a mini-universe," wrote one French critic. "They must have rehearsed for ages," said the little old lady on my right.
There were also some nice ideas, like broadsheets of newspaper gently raining down during "La calunnia" or a young man streaking across on his bicycle during the storm – but no intellectual picking-apart of the story, which is apparently why one of the critics, in his review, practically sneered at the audience for applauding it so loudly (unusually, the production team was cheered on opening night).
The overall effect was colourful (e.g. Berta's transparent plastic mac, printed with large sunflowers and worn over a yellow-and-orange dress), at times frenzied, with smoke billowing, washing flying off the lines and people running around in all directions while the lights flashed, and fun.
Seville
In these well-oiled circumstances it would have been good enough to have a cast of team-playing singing actors – which they were. But tenor René Barbera was a cut above that, with a true, full Rossini voice – no trace of what the French call a "voix de crécelle" – literally a "rattle-voice" but you know what they mean: a thin, bleating kind of
tenorino
– and a great deal of smiling charm and presence on stage. And Karine Deshayes is, or should be (and has been, for some years) an excellent Rosina: she produces beautiful sounds and sings with care and subtlety. Unfortunately I have to say that there were times – ensembles especially, but not only - when I could see her lips moving but hear nothing, and I was on row four of the stalls (which explains how I could see her lips moving). The Bastille is really no place for Rossini.
Apart from wondering why
Il barbiere
was once more at the Bastille, not Garnier (because it sells well, I imagine), I wondered why, as people (except me) liked the old production so much, we had to have a new one at all, or why the money couldn't have been spent on a different piece of Rossini for a change. But even if the conducting was fairly ordinary: not bad but not really sparkling, it was lovely to re-discover Rossini's masterpiece in an unpretentiously entertaining staging that (unlike Coline Serreau's – which combined the kind of intellectual pretensions the grumpy critic missed with plain silly stage business) made the time fly.
Maestro Wenarto sings "Una voce poco fa" (in French).