Strauss - Daphne
Sunday September 21 2014
Conductor: Lothar Koenigs. Production: Guy Joosten. Sets: Alfons Flores. Costumes: Moritz Junge. Lighting: Manfred Voss. Video: Franc Aleu. Choreography: Aline David. Peneios: Iain Paterson. Gaea: Birgit Remmert. Daphne: Sally Matthews. Leukippos: Peter Lodahl. Apollo: Eric Cutler. Erste Magd: Tineke Van Ingelgem. Zweite Magd: Maria Fiselier. Schäfer: Matt Boehler, Gijs Van der Linden, Kris Belligh, Justin Hopkins. Orchestra and men's chorus of La Monnaie.
Nobody these days wants to see tenors in tunics or cavorting shepherds, so
Daphne
, wonderful though it is, is sometimes performed in concert but too rarely staged. The director must scratch his head wondering what modern parallels he can use. Guy Joosten decided that nature-obsessed and literally tree-hugging Daphne, refusing to party with the uncouth, was defying all her parents and their milieu represented, and that, in this day and age, that would be the world of finance. Wall Street. Fair enough, as ideas go - "E for earnest endeavour," a conductor I played under used to say during rehearsals. But as the concept was worked though, its limits were soon obvious.
Strauss
The single set was impressive, filling the stage in all directions. A staircase rose from the middle of the apron, split to left and right, then rose again, on both sides, to a gallery at the rear, thus embracing a gigantic, twisted tree – so gigantic and twisted it was hard to credit Daphne's claim it was planted "in der Kindheit Tagen", unless something like Jack's famous beanstalk. Lighting and videos: stock market listings, greenery, a web, flames... carefully projected on the stairs or the tree, were excellently crafted and effective throughout.
As the curtain rose, we found the chorus and extras got up, not as nymphs, shepherds and cowherds, but as traders, all in nattily-tailored black (who isn't, in these updates?), gesticulating and poking at iPads flashing, like the projections, multicoloured listings and graphs. Gaea wore a yellow drag-queen (or Castafiore) dress and had big, blond hair, a glass in one hand and a decanter in the other. The two maidens were fashionistas in heels, brandishing bags, which made sense enough when they tried to coax Daphne into a frock for the festivities. Daphne herself was a kind of green-haired waif in unflattering bootees and a cardigan, Leukippos wore a pastel-coloured suit and Apollo looked distinctly un-godlike (or un-cowherd-like, for that matter) in scruffy grey, with black army boots. He brought with him ("the herd got restless, started stamping, and all together galloped away") Arturo Di Modica's famous charging Wall Street bull, here apparently inflatable, and a highly unexpected (in the Wall Street context) golden bow.
The Bull
The tame, almost good-mannered orgy involved young men on high-tech, strap-on stilts with bright blue, low-tech, strap-on dildos. When Apollo ended this unconvincing carousal with a thunderclap, and pitch-darkness ensued, the bull deflated and the stairs, in part, collapsed. He killed Leukippos with an arrow, brandished, not shot from the golden bow. And as Daphne climbed way up into her gigantic, twisted tree for the metamorphosis, it was set alight by the traders and burned in projected flames – very effectively to Strauss's marvellous music, though puzzlingly as regards the story.
The main problem overall, of course, was that on the trading floor, little of the libretto, with its shepherds and herdsmen and fishermen and vineyards and Olympian gods, made much sense. And in truth, some of the business verged on the laughable. So in all, while the setting was magnificent, what went on in it was, dramatically speaking, less convincing.
Musically, though, it was a different matter. Lothar Koenigs coaxed far better playing than I expected from the Monnaie orchestra (this bewitching score was once described to me as "needlessly difficult" by someone who'd had to tackle it), going for a gentle, warm-sounding performance no doubt better matched to their abilities than a harder-driven, more "paroxystic" approach (I have Böhm's live recording in mind).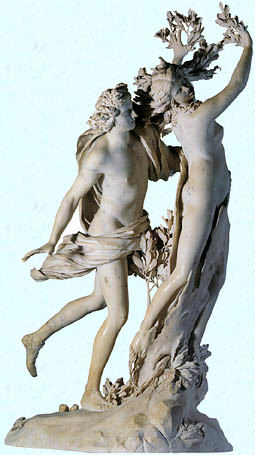 The supporting cast was also better than some of the critics implied. I wondered if, in some cases, we were better placed, in the circles, to hear them than the critics, who would have been given seats in the stalls - the set being what it was, the singers were often quite high up. Contrary to what I read, Birgit Remmert's low notes (and as we all know, Gaea has plenty of those) were all perfectly audible, and Iain Paterson seemed fine to me, even thrilling at times, not the weak link some implied. The maidens were excellent. (For those who don't know, Böhm's First Maiden in 1964 was Rita Streich!)
Thrilling too, very much so, was Eric Cutler's impeccable, resounding Apollo, leaving Peter Lodahl somewhat in the shade through no actual fault of his own, and to some extent stealing the show from Sally Matthews. But this is a tough role and she mastered it, with a darker, fuller voice than I remembered from her Mozart and definitely all the notes, even the curious twiddly bits - I noticed none of the intonation problems one critic claimed to have heard (but of course every performance is different: I was told Cutler cracked sometimes on the opening night). Also, again, the set played a part: Daphne was sometimes down to the side in one of the under-stair spaces, with nothing behind to push sound back into the house; when she was up on the staircase, she projected better and was thus a better match for Cutler.
I'm not a great one for favourites, but
Daphne
is certainly one of the Strauss operas I like best of all. This was the first time I'd seen it staged (having heard it perhaps twice in concert), and of course I was glad for that, even if the concept didn't always work out. The production was, however, leaving aside the antics, handsomely designed, and musically it was an excellent afternoon - more excellent than (the eternal pessimist - but that comes from going to opera so often) I'd dared hope for. A fair start to the new season.
Maestro Wenarto, who has not yet recorded an excerpt from Daphne, and Strauss's Dance of the Seven Veils.